Stay Warm This Winter With Our Women's Mohair Sweaters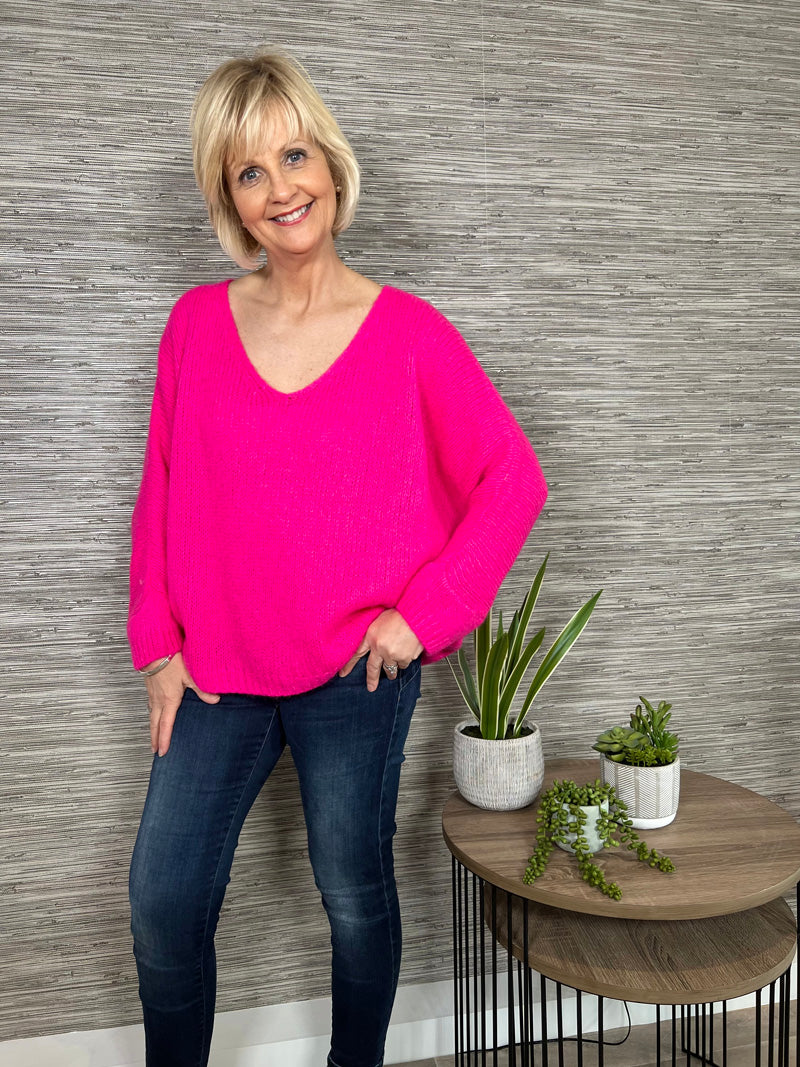 With a cold winter on the horizon, one of our high quality sweaters is an excellent investment for the months ahead. 
According to the Met Office, Britain is soon to be hit by a cold snap, including snow predicted in some parts of the country. What better time to be investing in a new batch of colourful, snuggly sweaters from Calitaa & Co?
In particular, our mohair sweaters are one of the best choices if you often struggle with the cold weather. These types of sweaters are popular for various reasons, but here are just a few benefits to introducing them to your wardrobe:
Mohair is a natural insulator and provides excellent levels of warmth. 
Whether you love travelling in Europe during the Christmas season, or you often go walking in the countryside in winter, our women's mohair sweaters will keep you warm and snuggly. Mohair is fantastic at trapping heat, making it ideal for almost Arctic weather conditions. 
Above is our Avril Mohair Sweater in a bright, vivid fuschia that's guaranteed to add a splash of colour to even the darkest day. It's super soft and fluffy, with this mohair mix sweater being in one size (fitting those up to size 16). This loose fitting fluffy style sweater couldn't be more on trend this winter.
Mohair has been recognised as a valuable material for a long time, with mohair used for thousands of years. Its origins have been traced back to ancient civilizations, including those in the Middle East and Turkey. In fact, the use of mohair fibre can be dated to as early as the 8th century BC.
It's also a soft and sumptuous material. 
Because it's so comfortable, mohair sweaters are a real joy to wear. They're similar to cashmere in terms of softness but less likely to cause itching or irritation. The fabric is naturally breathable, so you can remain relaxed in all kinds of conditions.
Our women's mohair sweaters are also lightweight, so you won't ever have that 'heavy' feeling when wearing them. This means they can easily be layered with other clothing to help you stay warm.
Mohair is often blended with other materials.
These include wool or silk, to enhance its properties. This can make mohair sweaters even more versatile and comfortable. Here at Calitaa & Co we use a blend of acrylic, polyamide, mohair and wool, which means our women's sweaters are much more affordable than pure mohair jumpers. 
Mohair is a durable and long-lasting material. 
This material can withstand wear and tear, making mohair sweaters a good investment. It's ideal for busy mothers or career women who want a material that's also beautiful and comfortable. However, it can be more delicate than synthetic materials, so it may require specific care when cleaning to maintain its shape and soft texture.
Mohair is also considered hypoallergenic because it lacks the scales found on wool fibres, which can cause irritation for some people. This makes it an excellent choice for those with sensitive skin.
Our beautiful mohair sweaters are stylish and can be worn for a variety of occasions. 
They can be dressed up or down and come in a variety of styles and colours. Among our range you'll find such shades as cornflower blue, avocado green, fuschia, purple, turquoise, khaki, and many more. 
Although mohair can be expensive, our high quality sweaters are made of a blend of materials, making them much more affordable. 
In short, they're the ideal choice if you're after women's sweaters that offer warmth, comfort, and style. They have a wealth of benefits that make them a desirable addition to a wardrobe, especially in autumn and winter.
If you're looking for women's mohair sweaters, don't forget to
check out our latest collection
. Or simply
contact our friendly team for more information.
|
Posted on October 09 2023